SHANGHAI, Feb 9 (SMM) – In October 2021, SMM entered into a partnership with MIRU.com, a leading metal resources provider in Japan, and kicked off the cooperation. Various efforts have been made so far, particularly at the Battery Summit 2022 held on January 14, 2022, Mr. Antares Yuan, an analyst in the SMM battery and new energy division, participated in the summit via video and through his participation, information on China was told to the meeting attendants. This effort is a major step forward in the partnership between SMM and MIRU.com.



We have summarised the efforts so far between SMM and MIRU.com.
● SMM invited MIRU.com to participate in the 2021 SMM NONFERROUS METALS INDUSTRY CHAIN ​​ANNUAL CONFERENCE held in Shanghai, China from November 10th to 12th, 2021 as the only media support in Japan
MIRU.com attended all conferences of this three-day annual conference online and distributed a total of 21 articles with topics concerning copper, aluminum, lead, zinc, and new energy.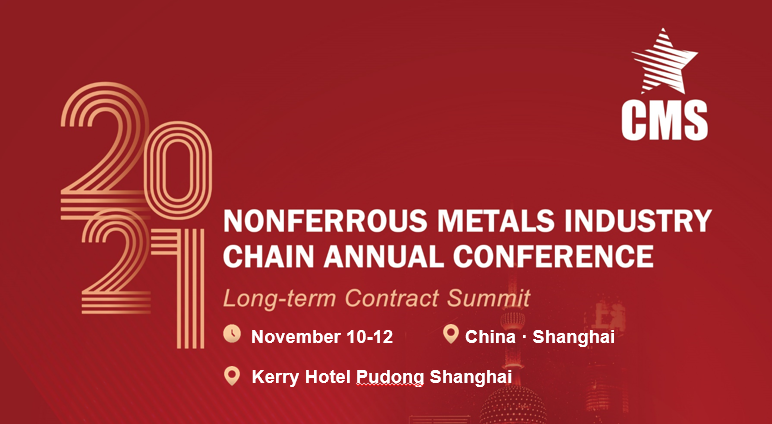 ● The 1st MIRU & SMM Online Live "2022 World Economy, Iron and Non-Ferrous Metal Market Outlook" was held on December 3, 2021 (Friday). The online live accommodated over 100 participants. Along with the video provided by SMM, an online question and answer session was also held.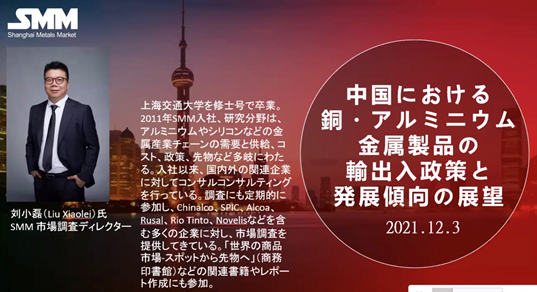 ● In December 2021, the partnership was further strengthened and cooperation related to research work was deepened. As a result, SMM will be capable of providing in-depth information from a global perspective.
● SMM participated in the Battery Summit 2022 held by MIRU.com with Professor Akira Yoshino of Asahi Kasei as the main speaker on January 14. At the summit, SMM new energy analyst, Mr. Antares Yuan, gave a 15-minute video presentation in English under the theme of "China New Energy Vehicle and Power Battery Industry Development and Review". It was well received by meeting attendees that they had a good understanding of the EV and battery markets in China.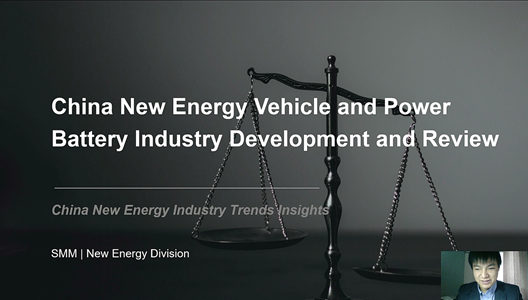 ● SMM will host the 7th China International New Energy Conference 2022 in Chengdu, China on April 20 – 22, 2022. Topics regarding new energy batteries and their materials, power battery recycling, new energy industry equipment and technology, and international new energy industry chain will be covered during the summit. We sincerely invite you to join the conference.
SMM is glad to announce that we have invited the Chairman and CEO of MIRU.com to give a speech on Japan's battery policy and development of recycling.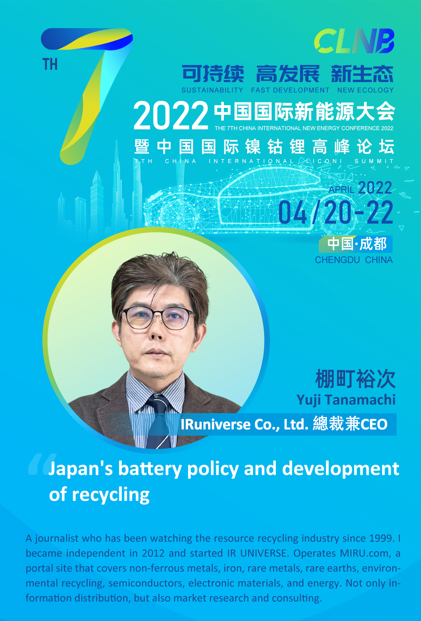 We would like to continue such efforts both online and offline.
● SMM holds online seminars in English on a regular basis, and will invite MIRU.com to participate as a media partner each time with follow-up media coverage.
● SMM has invited MIRU.com participate in the SMM seminars in the future.
In this way, SMM and MIRU.com have been sharing various information in the past three months since the start of the partnership. In the future, we plan to strengthen information sharing on both sides and to further strengthen the cooperation.
—————————————-
<Who is MIRU.com>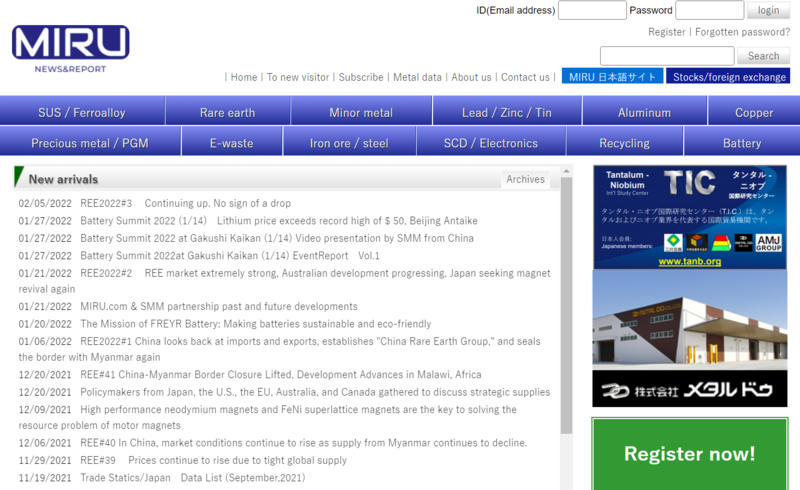 – MIRU.com provides information on a wide range of topics, such as upstream resources, downstream products, scrap recycling, cutting-edge electronic materials and semiconductor market trends
– MIRU.com English Version launched in 2017
– As of 2022, around 4,000 Subscribers (Domestic 9 : 1 International)
– Subscribers mainly consist of major corporations and are from extensive industries such as steel manufacturers, nonferrous metal smelting manufacturers, automobile manufacturers, home appliance manufacturers, major trading companies and recycling companies
– Running MIRU PLUS since 2020
– Regularly held online or in-person covering topics like automobile, battery and recycling sectors
– Various types of research for major corporations, universities and research institutions
Based on a contract with each company, tailored information specifically for them can be provided
For queries, please contact Frank LIU at liuxiaolei@smm.cn
For more information on how to access our research reports, please email service.en@smm.cn